General News
Albanese says Morrison must make call on cabinet minister accused of rape
Anthony Albanese says Scott Morrison must make call on cabinet minister accused of rape
Albanese says Morrison must make call on cabinet minister accused of rape
Labor leader Anthony Albanese says Prime Minister Scott Morrison must "satisfy himself" about whether a top minister should stay in federal cabinet after being accused of rape.
Mr Albanese said Mr Morrison was responsible for the key decision on whether the cabinet minister should step aside and whether the government should initiate an inquiry into the matter.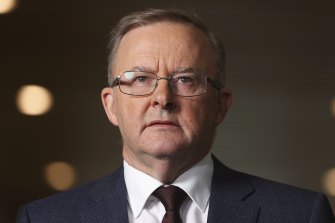 The ABC revealed the accusation on Friday night and NSW Police later confirmed the historical rape allegations, saying its Abuse and Sex Crimes Squad had received a complaint from a woman in February last year.
The cabinet minister has not been named by police or media.
"This is a real test and the Prime Minister must confirm to himself that it remains the case that the minister who's the subject of these allegations, that it's appropriate for him to stay in his current position," Mr Albanese said.
Loading
The Labor leader said the allegations cast a cloud over the Parliament and needed to be investigated by authorities, but he did not say the cabinet minister should step aside, resign or be removed.
Instead, Mr Albanese argued it was for Mr Morrison to make the decision.
"It's his responsibility – he solely appoints the cabinet. He must assure himself that it's appropriate that the current make-up of the cabinet can continue.
"That really is a matter for him. I'm not aware of all these details that have now come to light in the last couple of days."
Loading
Labor has urged the removal of Defence Minister Linda Reynolds from her post on the grounds she did tell Mr Morrison of a rape allegation by her adviser, Brittany Higgins, in March 2019.
Mr Albanese took a different approach to the allegations about the alleged rape three decades ago, however, when asked on the ABC's Insiders program whether the Prime Minister should call an independent investigation.
"I'm saying it's a matter for the Prime Minister. I don't seek to politicise this issue. What I say is the Prime Minister must satisfy himself that the current circumstances are appropriate," he said.
Greens leader Adam Bandt said the minister should be stood aside while Mr Morrison conducted an inquiry, given the position of the alleged perpetrator meant it was a matter of national significance.
"The circumstances of this case and the potential difficulties of prosecuting the matter mean the Prime Minister cannot wait for the police investigation alone," Mr Bandt said on Sunday morning after Mr Albanese's appearance on Insiders.
"The Prime Minister must also conduct his own independent inquiry to determine whether this minister is fit to be in his cabinet. If the Prime Minister doesn't at least stand this man aside while he conducts his own inquiry, then he's sending the terrible message there is space in his cabinet for someone with an unresolved rape accusation."
David Crowe is chief political correspondent for The Sydney Morning Herald and The Age.
Source: Albanese says Morrison must make call on cabinet minister accused of rape